Vote For Our Future is a Refinery29 microsite created for the 2020 US Election, with the objective of encouraging Americans, particularly Refinery29's core audience of eligible millennial and gen z female readers, to register and vote. 
Leading up to the election on Tuesday, November 3rd 2020, there was a live tracker in the header to countdown to the election.
Created:

 In-house at Refinery29
Art Direction & Design: Michelle Lin & Seeta Kanhai
Junior Designer: Michelle Cope
Illustrator: Peter Strain
Web Developer/Lead Product Designer: Lee Misenheimer
Senior Politics Editor:

Natalie Gontcharova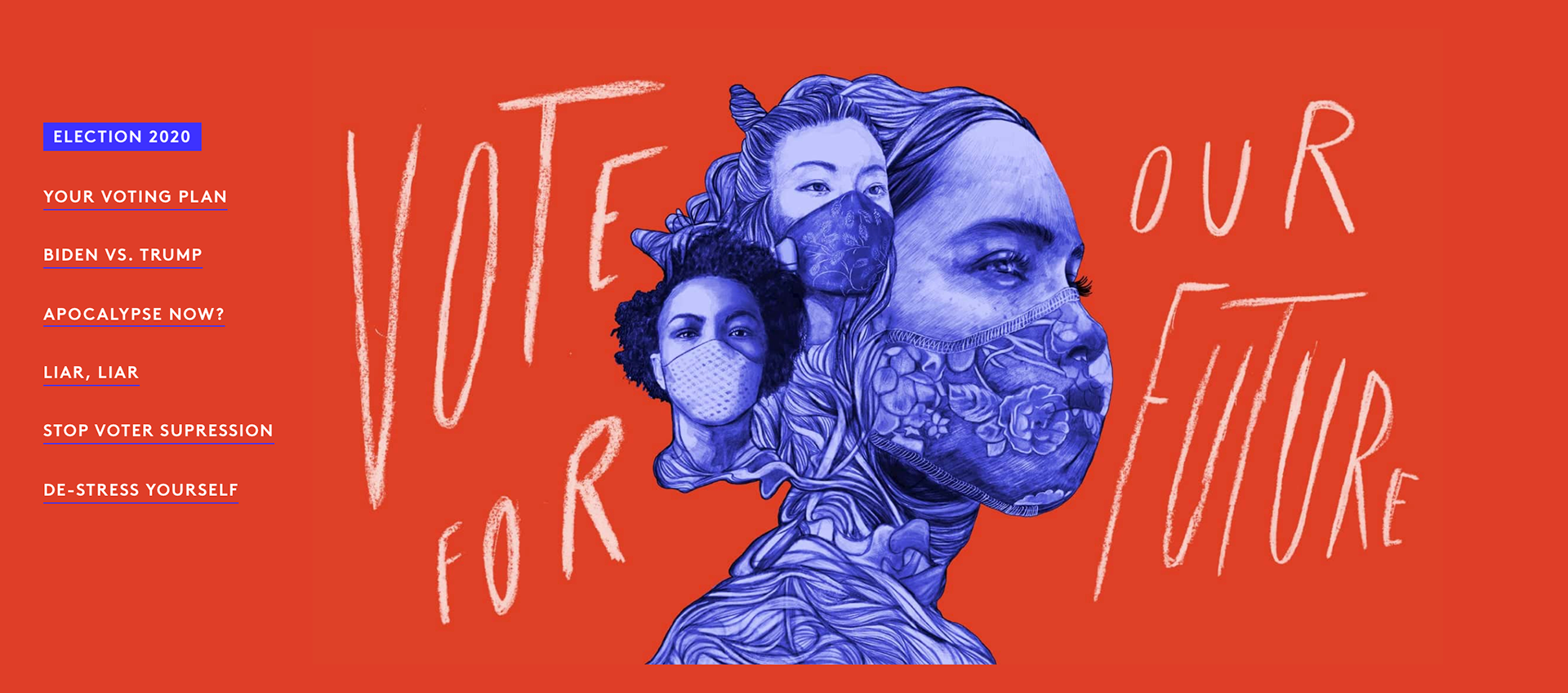 Initial Concepts/Wireframes
With Seeta and I as the design leads on this project, we delegated the work across our team, and divided the focus with Seeta leading the art direction for the article designs, and myself in charge of art directing the illustrated header, designing and testing the wireframes and working with the Product team to create this microsite for Refinery29.com. 
Since this is new custom microsite, one of the objectives was to create an experience that was entirely different from existing pages on Refinery29.com, with a focus on a fixed side menu bar, and an overall structure that was flexible enough that it could be templatized for future microsites. 
Here are some initial wireframes below. Visually, my objective was to create a page that felt graphic and bold with a sense of urgency, but also minimal enough to let the visuals and copy shine.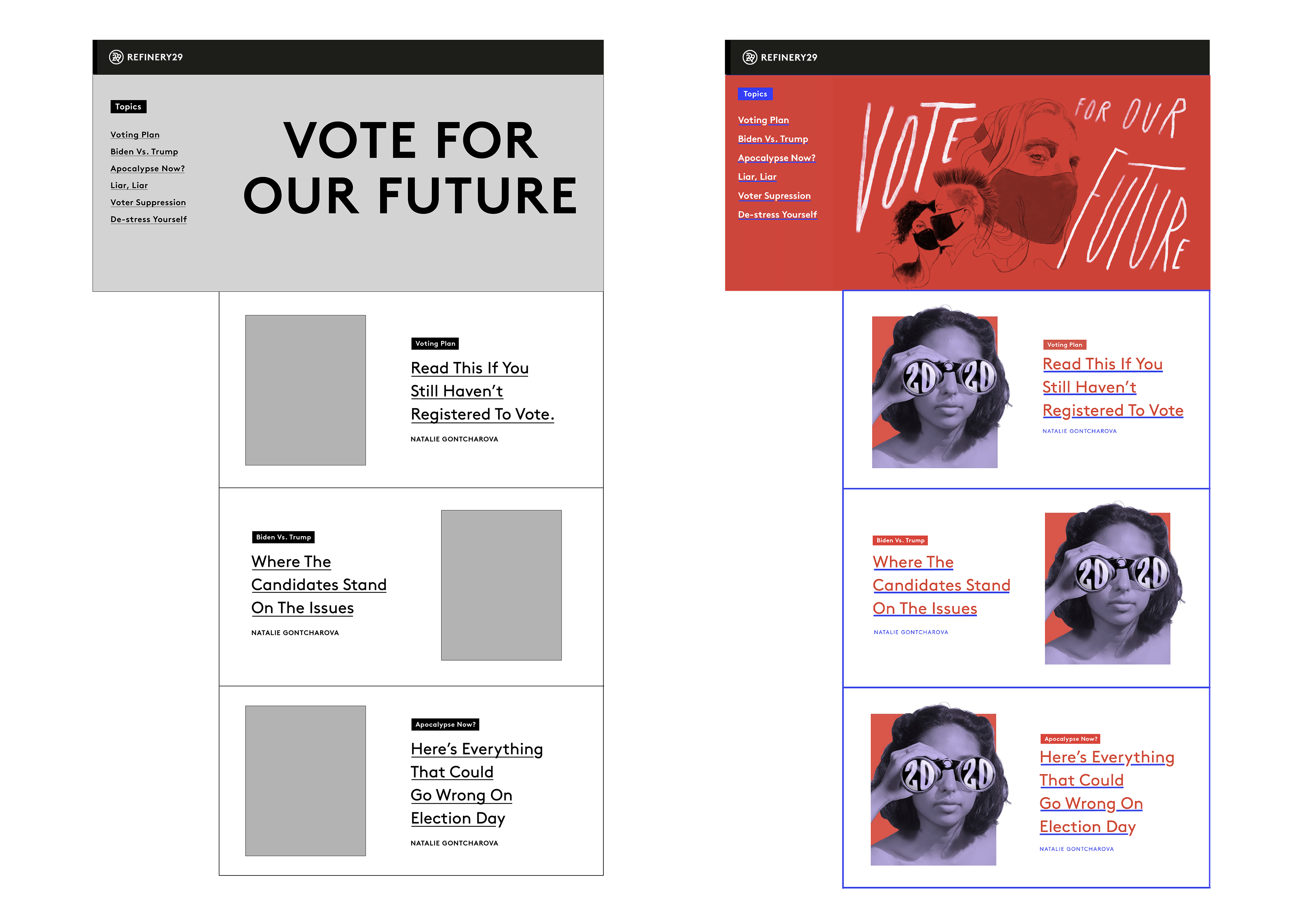 In terms of interactive features, a fixed side menu bar was a main priority as it provided a shortcut to access all the articles at once. 
Prior
to the 2020 Election, the header (where it currently reads "GO VOTE") had a live timer that counted down. 
Seeta and I created this palette that captures the colours of the US Elections. We added in a gradient purple to add a softer touch to an otherwise very graphic and bold palette, and to help represent the uncertainty of the two parties. 

Illustrated Header / Article Openers
Working with illustrator Peter Strain on these header illustrations, because the overall microsite is so bold in colour, I wanted the illustrations to have a softer touch in both colours and illustration style to help evoke the feelings of hope and anxiety many young women across the country were experiencing.
As for the focus of the header illustrations, we wanted masks to be included as it was one of the most polarizing topics between the two candidates — COVID19 and how to handle the pandemic. 
Working with Seeta, we translated the look and feel of the illustrated header to create a series of designed collages to accompany the articles. 
Here is the full microsite for desktop and mobile. Check it out live on Refinery29.com here
.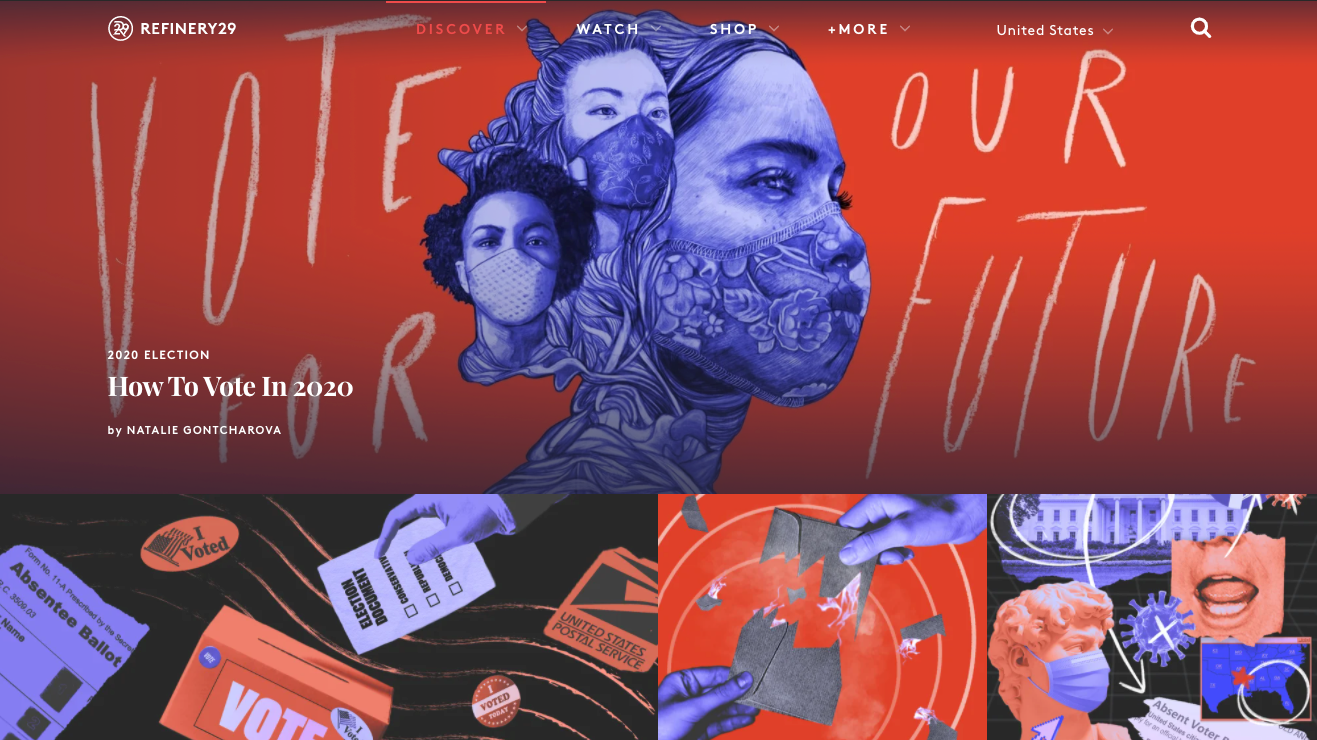 The overall Vote For Our Future visual identity and design was also translated on to the Refinery29 Instagram channel through a series of shorter, easy-to-digest posts about where the two Presidential candidates stood on various subjects. These were templates we designed for Instagram's in-feed posts and stories.